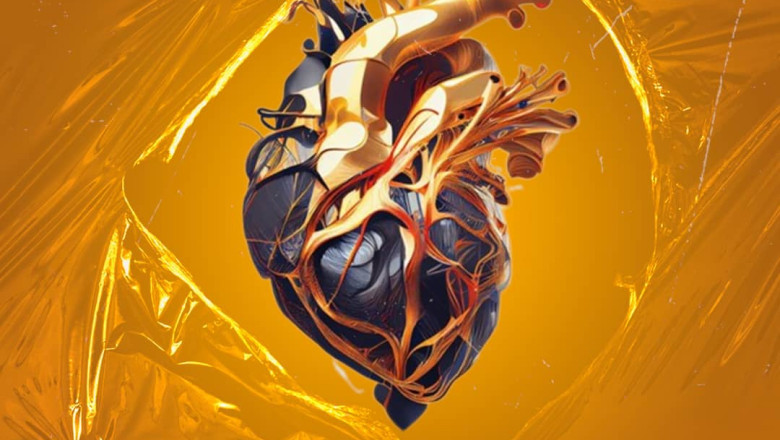 Artificial Heart" by Cqudzie Heart (Ba Iris) is more than just an EP; it's a love project, a guide, and a beacon of hope for all hearts.
In the bustling world of music, artists like Kudzai Arnold Chipunza, known by his pseudonyms Cqudzie Heart and Ba Iris, have a unique way of capturing the essence of love, human experiences, and the ever-evolving journey of the heart. On the 18th of October 2023, Cqudzie Heart released his EP titled "Artificial Heart," a beautiful compilation of seven songs that delve deep into the multifaceted emotions of love, gratitude, hope, and the pursuit of a better life. Each track tells a story, offering listeners a heartfelt guide through the ups and downs of love, life, and the pursuit of happiness.
"AKUTOKWATA MASPORTS (Featuring 2 Shots)"
This song opens the EP by narrating the story of a lady who, after experiencing fleeting connections, is ready to embrace a meaningful and lasting relationship. Her realization of self-worth drives her to seek a love that is built on genuine care and protection, rather than just passing moments of pleasure.
"IM IN LOVE WITH YOU (Featuring TooFyn)"
"IM IN LOVE WITH YOU" is a testament to the transformative power of love. The protagonist, who never believed in love, finds himself head over heels for a woman from the MaMoyo tribe. With its electrifying pop sound, this track beautifully conveys the sensation of falling deeply in love, using captivating melodies and vocal prowess.
"ALPHA" is a love song that champions the power of love in bringing people together. With its unique blend of sounds, the track encourages the spreading of love, holding onto it, and fighting battles that heal and protect the hearts of those who have fallen in love.
 "NDINOUYA IKOKO (Featuring Euciu DeVyruss)"
This amapiano-fused track takes a reflective approach, as the singer addresses opportunities as if they were human. The lyrics express the struggles of individuals from humble backgrounds who must overcome financial difficulties without a safety net. It serves as an anthem of hope, urging opportunities not to lose faith in their journey.
"KUTENDA (Featuring Natasha Muz, Flytz, and 2 Shots)"
"KUTENDA" is a song of gratitude, celebrating the divine gifts in life. It specifically acknowledges the girl child and the mothers who have given birth to queens, underlining the importance of giving glory to God for all the blessings bestowed upon us.
A fusion of dancehall and amapiano, "MAKHOTI" is an infectious, feel-good track. It expresses the artist's readiness to commit to the love of his life, inviting everyone to sing along and celebrate the magic of love.
 "Ghetto Prayer" (Recited by Leon Mwana WaJoze)
Concluding the EP on a profound note, "Ghetto Prayer" is a heartfelt conversation with the Divine. Leon Mwana WaJoze recites a powerful prayer, emphasizing the need for the youth to seek guidance from the Word of God. In a world filled with distractions, the track serves as a reminder to stay focused and grounded in faith.
"Artificial Heart" by Cqudzie Heart (Ba Iris) is more than just an EP; it's a love project, a guide, and a beacon of hope for all hearts. The songs within this collection paint a vivid picture of the intricacies of love and the journey towards self-discovery and fulfilment. Each track carries a unique message, from embracing self-worth and spreading love to expressing gratitude and finding solace in prayer. Cqudzie Heart's "Artificial Heart" is a heartfelt offering that resonates with the depths of human emotion, serving as a powerful reminder of the transformative power of love and the enduring strength of the heart.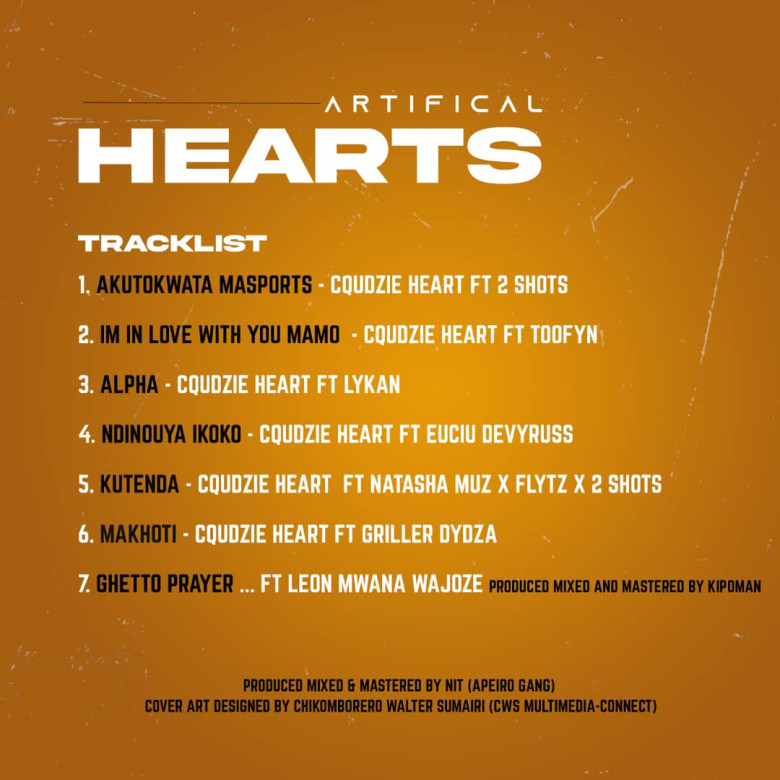 You may also like