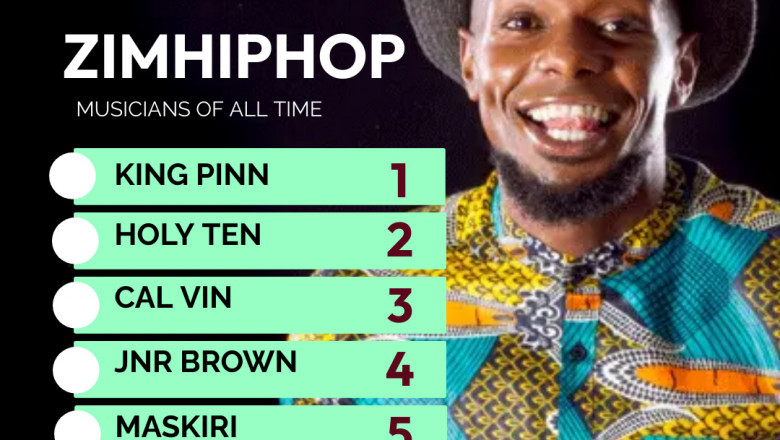 Hip-hop music has been an integral part of Zimbabwean popular culture for a long time. The country has produced several talented artists who have left a lasting impact on the local music scene with their innovative lyrics and catchy beats. Here, we recognize the greatest Zimbabwean hip-hop artists of all time, acknowledging their achievements and influence on the local music industry.
1. King Pinn
King Pinn is widely regarded as one of the pioneers of Zimbabwean hip-hop music. He first gained recognition for his hit solo song "I Salute You" and has since gone on to release a number of successful projects, establishing himself as one of the most influential and talented hip-hop artists in the country.
2. Holy Ten
Holy Ten is another talented hip-hop artist who has made a significant impact on the Zimbabwean music scene. He is known for his controversial lyrics and has released a number of hit songs, including "Mwana Ndakubirai," "Kumba Kune Vanhu," "Ma Chills," "Wakatuka Amai," and "Pressure." With at least three successful hip-hop projects under his belt, Holy Ten is widely regarded as one of the greatest hip-hop artists in the country.
3. Cal_Vin
Cal_Vin is considered one of the best Zimbabwean hip-hop artists due to his versatility and impact on the local music scene. He began his music career as a rapper, but quickly transitioned into producing his own beats in a range of genres, including hip-hop, R&B, and Afro Pop. This allowed him to work with other big names in the industry and establish himself as a talented artist.
Cal_Vin gained significant popularity in 2014 with the release of his hit song "Bebengakholwa," which dominated local radio charts and competitions. The song was a number one hit on the Bulawayo Top 10 Chart on ZiFM Stereo for eleven weeks and was voted "Song of the Month" three times consecutively. Additionally, the song was well-received on the Heart Beat National Chart, where it stayed in the top 10 for several weeks. These achievements demonstrate Cal_Vin's popularity and influence as a hip-hop artist in Zimbabwe.
 Despite his untimely death, Cal_Vin's music continues to be remembered and celebrated by his fans and the hip-hop community, and his impact on the industry will not be forgotten.
4. Jnr Brown
Jnr Brown is a talented and accomplished rapper who has made a significant impact on the Zimbabwean hip-hop scene. With his unique style and undeniable skills, Jnr Brown quickly rose to fame in 2012 with the release of his hit song "Madrinks". He has continued to release a string of hits, earning him recognition and awards in the process. His passion for rap started at a young age, and he honed his skills through challenging himself and his fellow students in high school. Jnr Brown's talent was eventually discovered by a radio presenter who helped him record his first song, and he has been making waves in the industry ever since. He is truly one of the greatest Zimbabwean hip-hop musicians of all time.
5. Maskiri
Maskiri is considered one of the greatest Zimbabwean rappers due to his impact on the music industry and his longevity in the game. He first rose to fame as part of the group Phathood Entertainment, and then went on to release six successful solo albums. His debut album, Muviri Wese, was well received and carried hit songs that became popular in Zimbabwe. The New Look album, recorded in South Africa, was also a big success and produced hit songs like Handina Kwandinoenda and Wenera, which topped the charts. Maskiri's ability to consistently produce chart-topping music and captivate audiences has solidified his place as one of the greatest Zimbabwean rappers of all time.
6. Ti Gonzi
Imwembeu, as he is referred to in some quarters, began freestyle rapping as a teen which earned him a name in the surrounding neighborhoods before national fame, however, he started recording professionally in 2008 and released his first 6-track album which was produced by Spencer Masango at Track Records in 2009 when he was 16 years old. The album however was not a success due to poor marketing and distribution and in 2012 he released his second offering titled M.P.M (Moyo Pfungwa neMweya/Motsi Piri Muyedzo) album a 12 track album which also did not reach mainstream success. In 2014,Ti Gonzi scooped his first-ever award, the Best Freestyle Artist Award at the ZimHipHop Awards which was decided by the crowd present after a freestyle battle on the day. 
7. Asaph
Asaph's musical journey started in 2007 when he began making music, and recorded for the first time when he was in form three. He started off making Gospel Hip Hop and released three projects under the stage name Kwanfire. However, in 2015, he changed his name to Asaph and dropped the Gospel Hip Hop title and released his first nationally recognized project, Kingsvilla, which earned him a nomination for Best Hip Hop Album at the 2016 Zim Hip Hop Awards.
Asaph's hard work and talent were further recognized in 2018 when he released the song "MAMBO", which went on to dominate the ZiFM Stereo Gtel Top 40 charts, becoming the number one song in Zimbabwe for over two months. This success won him three Zim Hip Hop Awards and three Changamire Hip Hop Awards. In 2019, he continued his streak of success with the release of "V.I.C. (Vibe Is Correct)" which won the Best Hip Hop Song at the 2020 Skyzmetro Music Awards and Best Hip Hop Artist at the 2019 ROIL Bulawayo Arts Awards.
Asaph's talent and hard work have not gone unnoticed, and in December 2021, he signed with Def Jam Africa, solidifying his place as one of the greatest in the Zimbabwean Hip Hop industry. With his versatility, versatility, and passion for creating music, Asaph continues to inspire and entertain fans all over the world.
8. Stunner
Stunner's music style is a fusion of different music genres including hip-hop, rap and contemporary. He has a unique flow that sets him apart from other musicians in Zimbabwe. In addition to his musical talent, he is known for his socially conscious lyrics that address various issues affecting Zimbabwean society. He uses his music to promote positive messages and encourages young people to pursue their dreams despite the challenges they face.
Stunner has won several awards for his music including the Outstanding Hip-Hop Song at the Zimbabwe Music Awards and the Most Outstanding Hip-Hop Video at the ZIMA Awards. He has also been recognized for his contributions to the Zimbabwean music industry by being inducted into the Zimbabwe Hall of Fame.
Stunner has made a significant impact in the Zimbabwean music industry and has inspired many young musicians to pursue their dreams. He is considered one of the greatest musicians in Zimbabwe due to his innovative style, exceptional talent and impact on the local music scene.
9. Tehn Diamond
Tehn Diamond, born in Zimbabwe, is a talented rapper, singer, and songwriter. He started his musical journey at an early age of 6 and has always known that music was going to be a major part of his life. He was part of a rap group 'Rao' but it was only after attending a Jay-Z concert that he decided to fully pursue music. In 2006, he dropped out of his degree program and started focusing on his music career. He released his first mixtape "SOTG1: Higher Learning" in 2008, which showcased his life experiences and the changes he faced to become a rapper. His second mixtape "Boys Will Be Boys (SOTG2)" was released in 2010, which introduced him to the local audience with songs like "Grown up kid" being widely played on local radio stations. With his love for expressing himself through words and his passion for music, Tehn Diamond has established himself as one of the greatest Zimbabwean rappers of all time.
10. Voltz JT
Voltz JT's unique style, socially conscious lyrics and his ability to incorporate the Jecha trap sound into his music, has made him a standout artist in the Zimbabwean music scene. His early success and signing with Mulanation Entertainment has paved the way for his continued growth as an artist and his potential to become one of the greatest in the future. The impact of his music, the message he conveys through his lyrics and his ability to connect with the people through his music, make him a rising star in the industry and one of the most promising artists in Zimbabwe
You may also like